The River Song
The Summers Brothers–The River Song © 1976
Lennis and I wrote The River Song in 1976. It's one of my favorite Summers Brothers tunes.
The Summers Brothers' songwriting approach usually went something like this: Lennis or I would write a song. Once one of us had completed a song, we'd play it for the other, and then work together on vocal and instrument arrangements.
One of the reasons I am so fond of The River Song is that it was an entirely collaborative effort from start to finish. As such, it has a very special place in my heart.
Here's how it unfolded:
Our good friend Manoutch Kazemzadeh was an accomplished photographer and had introduced us to the nature photography of Eliot Porter. Mr. Porter (occasionally referred to as the Ansel Adams of color photography) sometimes used a technique that involved photographing a flowing river using a long exposure and a high f-stop. This resulted in sharp photos with a great depth-of-field, and with a mystical-looking blurred effect transforming the flowing water into something magical and otherworldly.
Here's an example of that technique: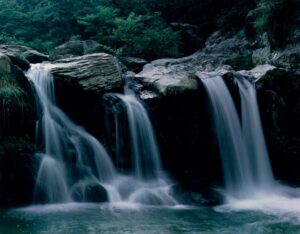 Lennis and I were intrigued and inspired by these photographs. One day we were sitting around, fiddling with various guitar parts. Pretty soon we were singing melodies and jotting down lyrics as they came to us. As the song came into being, it turned out to be about a river. The song was written start to finish in just a few short minutes.
Another reason I like this song is the spoken verse at the end of the song. It's one of the few recordings I have of Lennis' speaking voice.
The recording was made on cassette in 1978. I hope you enjoy the song.