The Summers Brothers were a singer/songwriter duo who wrote songs and performed around Texas from 1972 through 1980. The Summers Brothers consisted of Lennis Summers and me, Frank Summers.
I have many reasons for putting this site together. First and foremost, I wanted to honor by brother and his music.
Lennis passed away in September of 2020. It was a devastating loss. The world lost a wonderful human being, and a great musician and songwriter.
In addition to honoring Lennis and his music, I wanted to provide a place for the Summers Brothers' music to live. My plan is to post videos of Summers Brothers songs on the "Videos" page of this site.
Early Influences
Lennis was 5 years my elder. We were born and raised in Stephenville, Texas, in the heart of dairy country. Music was the fabric that stitched together our lives. Dad was a big country music fan, so country radio constantly blared out in his shop where he made mattresses for a living. On any given day, you could hear Hank Williams' I'm so Lonesome I could cry, the carefree refrains of Roger Miller's King of the Road, along with countless other country classics cutting through mattress dust and worker banter. On Saturday evenings, Dad dialed in the TV stations that carried country music shows. Then he relaxed in his recliner to let the week's weariness drift away as the country music stars of the day sang of heartache, betrayal, and unrequited love.
The Summers Mattress Factory supplied mattresses for Stephenville and neighboring communities. Dad spent a lot of time driving to small neighboring towns on mattress deliveries and drove to Fort Worth for supplies every few weeks. He often spent the time driving writing songs in his head. When I went with him on some of his trips, he would sing those songs to me. Dad never played an instrument, but he had a strong sense of melody and lyrics. Looking back, I know that had an influence on me, and on Lennis.
By the time Lennis was old enough to work in the Mattress Factory, he began to exert influence over what played on the radio and the dial began to find its way toward KLIF, Dallas' pop radio station. When The Beatles hit the states, Lennis' imagination was totally captured (as was mine) with the music that began gracing the airwaves as a result of the "British Invasion". Lennis got an electric guitar in his teens, and he began hanging out with friends with similar interests.
Lead guitar came very naturally to Lennis. His technique grew more and more refined and by the time he was in his early twenties, he was a bit of a guitar legend in Stephenville. He played in various area bands—some of which had moderate success playing gigs around the Fort Worth area.
In the meantime, my musical influences were evolving. I started singing in choir in seventh grade and continued through my high school years.
My freshman year in high school, I became friends with Craig Webb and we began learning guitar and working up songs by The Beatles, Credence Clearwater Revival, The Band, The Doors, and The Rolling Stones. I would sneak into Lennis' room and play his classic guitar when he wasn't home. That lasted until Lennis gave the guitar to a girl (imagine that!). I was forced to buy my own.
After I had been playing guitar for a while, I was starting to really feel the influence of my years in choir and found myself attracted to musical groups with distinct harmonies and melodic structure. When I heard Crosby, Stills and Nash for the first time, I knew I had found "my music". My ear began seeking out more intricate vocal groups like Simon and Garfunkel and Seals and Crofts.
By the time 1971 rolled around, Lennis' tastes had started gravitating toward folk rock music. Early that year, Lennis began singing with his then girlfriend, Laurie. Lennis had written several songs by then, and they had a pretty good song list worked up.
Lennis was always a mover and shaker. He had an easy way with people and managed to get to know people who in one way or another could help advance a burgeoning music career.
In the winter of 71/72, Lennis had persuaded a DJ at the local FM station to let him and Laurie sing live on the air on Friday evenings. Lennis graciously invited me along for the ride. Lennis and Laurie sang the first fifteen minutes, and I did a solo set the last fifteen.
It was a wonderful time. I have one of those sets on reel-to-reel tape. Perhaps someday I'll put them online.
1972 was a busy year musically. That was when I joined friends Mike Starnes, Craig Web, and Bob McAlister, and started a rock and roll band called Grumpy.
After a few months of playing with Grumpy, I began to really hear the call of a different kind of music. By this time, I was more interested in playing Folk Rock (the likes of CSN&Y, Seals and Crofts, and Cat Stevens). So, I made the decision to leave Grumpy. Lennis stepped in as my replacement.
The Summers Brothers are Born
As 1972 stretched toward summer, Lennis and I began singing together on the side. We had both been experimenting with writing songs. After leaving the band, I began running the sound board for Grumpy, and in between sets, Lennis and I would play Summers Brothers sets. By the time summer rolled around, Lennis and I were becoming very serious about our music together.
By the beginning of 1973, we were convinced we had something special and made the decision to move to Austin in late summer/early fall.
We kicked around Austin for about 3 months, playing music in Austin dives for almost nothing. You could get a tiny beer buzz just walking into those joints from the spilt beer that had soaked into the wood floors. And, as it turns out, we were competing with singers and bands who would play for beer. The amount we were paid was not enough to live on, but we eked out a living, being helped tremendously by our manager Sid Hatch who kept us in rice and beans, and bean sandwiches and helped us pay the rent by working during the day and booking us gigs in the evening. The three of us rented a trailer on the north side of Austin.
Unfortunately, Dad died in late October. We came back Stephenville to help Mom decide what to do with the Mattress Factory.
The winter of '73/74 was cold, dreary, and bleak. The shadow of Dad's death hung over us like a cold, gray cloud through which we expected the sun to never again shine.
It was during that time that Lennis wrote "Morning Sun". That song was clearly about Dad. Working it up and singing it was an amazing cathartic experience and began the process of healing. Here's a photo from those days:
Now, when I listen to recordings of ourselves from those days, I can see why we struggled so badly to make it. We had tons of enthusiasm and lots of raw talent, but we hadn't yet found our sound, and we still had a long way to go.
In the early spring of 1974, we moved to Grand Prairie, Texas. Grand Prairie lies between Fort Worth and Dallas. We had hoped that this would be a strategically sound location for being able to play in Fort Worth and Dallas restaurants, clubs, and bars. The plan at that time was to find day jobs and play evenings and weekends as best we could. We managed to line up gigs for most every weekend.
The Kerrville Connection
In the spring of '75, we sent a tape to the Kerrville New Folk concerts and were accepted into the Kerrville New Folk competition. We repeated this accomplishment in '78 and '79. As I look back at the Kerrville New Folk contest rosters for the years we competed, I see names such as Lucinda Williams, Tish Hinojosa, Steve Earle, and Nancy Griffith on the list. We didn't know it at the time, but we were rubbing elbows with folks who would turn out to be stars and influencers in the music business for years to come. Although The Summers Brothers were never selected as New Folk finalists, I consider it an honor to have competed alongside folks whose careers blossomed later.
The last year we performed in the Kerrville New Folk Concert was really cool. As we took the stage, the folk festival founder Rod Kennedy said to us, "I am really glad to see you guys back this year. When we listen to the tapes, we aren't told who we're listening to. But when I heard you guys' harmony, I knew the Summers Brothers were back." And as we sat down, Peter Yarrow of Peter, Paul and Mary adjusted our mics.
Two things about that: What a wonderful spirit of service. Peter Yarrow didn't HAVE to adjust anyone's mic. But there he was, participating in this wonderful thing that the Kerrville New Folk Concerts were turning into. And the other thing was, my mic is being adjusted by Peter Freakin' Yarrow. Damn!.
Surreal.
Almost, Almost Famous
Another surreal thing happened somewhere in those years between 1974 and 1975.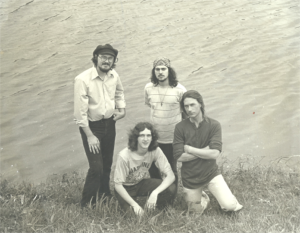 Lennis and I formed a band with friends Stephen Swartz and Bob Pylant. We called ourselves Jasmine.
Through a friend, we were "discovered" by a gentleman who was a booking agent for McNeese State University in Lake Charles, Louisiana, and were invited to open for Dave Loggins (Dave Please Come to Boston Loggins). They were playing the heck out of Please Come to Boston on the radio at that time. It felt like a huge deal.
The week before that performance, we played our usual Friday night gig at the Feed Store in downtown Ft. Worth. It was a slow night with no more than half a dozen people in the audience at any given time. The next week, we played for 1,800 people at McNeese State, and were enthusiastically received. It felt like we had made it!
The week after, we were back at the Feed Store playing for an audience of 8 people.
Surreal.
By 1976, we were back to being the Summers Brothers again. We were starting to sound a lot better and our songwriting was coming along nicely.
We continued to play around Ft. Worth and the DFW mid-cities. We found Dallas much harder to break into.
Winding Down
We did a lot of gigging in the years between 1976 and 1980. We worked mainly in Fort Worth, playing in various restaurants, nightclubs, and bars. Unfortunately, by the time 1980 rolled around, I had become convinced that if we were going to make it, we would have made it by now.
What we came to understand is that for any musician or group to make it, a lot of things need to happen at the same time. You have to be at the right place at the right time. You have to have an audience that is thirsty for the work you produce. And here's the tough part: You have to have a product that will sell.
Lennis and I had quite a few of the required components. We were good musicians. We were good songwriters. We had a good sound. We had decent songs. What we didn't have was a product people would turn over their hard-earned money to partake of. And we weren't at the right place at the right time.
Lennis and I had put our lives and souls into the Summers Brothers. But I began to see the writing on the wall. I had become convinced that we were never going to produce something that was ever really going to take off.
And it was time to get on with life.
So, in the end, I made the call. Sometimes I regret the decision, but most times I think that life worked out the way it was supposed to.
Looking back, I wish we had made more high-quality tapes, and I wish we had taken more pictures.
We made some decent recordings. Unfortunately, the only ones I can find are all on cassette—40+ year old cassettes at that. I'm doing the best I can to restore these recordings to something that is relatively pleasing to the ear.
I hope you've enjoyed reading about the Summers Brothers.
Please drop me a line on the Contact page and be sure to subscribe to my YouTube channel. I'll be posting more Summers Brothers music on YouTube in the coming weeks and months.
God bless, and peace out.
~Frank~